Book Launch Celebrations Wrapped Up With Great Turnouts
At Tantallon Library last night author Wayne Rogers addressed a full-house crowd of m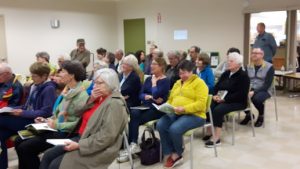 ore than 30 outdoor enthusiasts interested in the Walking Guide and history of the Old St. Margaret's Bay area.  Many people were interested in reviewing the Walking Guide maps and discussing the best routes for planning their next hiking adventure.
Many generously donated to the Trust in recognition of the value of this free give-away.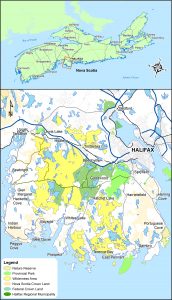 The Trust will be distributing free copies of the Walking Guide broadly to libraries, schools, sister organization members and community groups to encourage use of the trails and wilderness areas.
Books are available at the following locations for free.  Just ask at the Info Desk.
Tantallon Library
Keshen Goodman Library
Captain William Spry Library
Chronicle Herald article published Monday, May 29.
——-
A fabulous second edition of the popular book A Walking Guide to the Old St. Margaret's Bay Road is ready for sharing and the Trust is celebrating!
Just in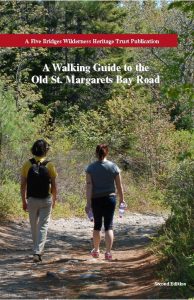 time for summer hikes and outdoor fun, this full-colour 40+ page guide offers detailed descriptions, updated colour maps and coordinates to points-of-interest across this once main route of the Chebucto Peninsula.
Author Wayne Rogers will attend the book launches to sign copies. Numerous Trust members, volunteers and supporters helped tirelessly to update the content of this edition and ensure its accuracy. Many of them will also be available to talk about the new edition.
This publication has been made possible through the generous contributions of Bay Treasure Chest, Halifax Regional Municipality Grants Program, St. Margaret's Bay Region Tourism Development Association, Sage Fund, HRM Councillor Reg Rankin and an anonymous donor, and many Trust members and supporters who provided new content.