Six Funded Projects Will Improve Trails and Wilderness Education
Six environmental stewardship projects are moving forward this year thanks to $40,000 of grant money generated by the Bay Treasure Chest and awarded to volunteer community groups through the Five Bridges Wilderness Heritage Trust's Environmental Stewardship Grants Program.
Grants were awarded to the following groups and projects:
St. Margaret's Bay Safety-Minded ATV Association:
$5,000       Nine Mile River Bridge installation – when completed the bridge will allow safe passage across the Nine Mile River to all trail users of the Old Coach Road.
$3,400       Signage Project – new signage across 22 km of managed trail passing through the Wilderness Protected Area to enhance safety and way-finding for users of the Old Halifax Road and the Old Coach Road.
$8,000      Trail Improvement – create new trail bed suitable for hikers and cyclists to connect the St. Margaret's Bay Rails to Trails to the parking and picnic area of Lewis Lake Provincial Park.
Bluff Trail Stewardship Program and Woodens River Watershed Environmental Organization:
$10,000        Volunteer Stewardship Training – education of 50 volunteers who will become trail stewards of the Bluff Trail hiking area and act as ambassadors when interacting with trail users.
$5.600          Wilderness Red Cross Training – education of up to 24 youth as wilderness leadership facilitators.
B.L.T. Rails to Trails Association:
$8,000          Rebuilding of retaining wall and causeway improvement at the Five Island Lake bridge to prevent washouts and make the BLT Trail safer.
This is the first time that the Trust has awarded environmental stewardship grants to volunteer community groups on an open, competitive basis.
To ensure fairness and accountability in the administration of the awards, the Trust partnered with the Five Bridge Lakes Wilderness Coalition which managed the application review process and will monitor the progress of each project.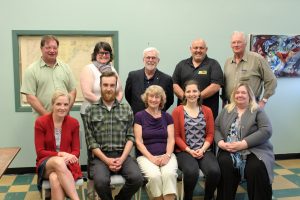 From Left Back: Harry Ward, FBWHT Board Chair, Kimberly Berry, Bluff Trail Stewardship Program and WREOW, Tom Musial, Chair FBL Coalition, Mike Marriott, President, Safety-Minded ATV Assoc., Lindsay Gates, BLT Rails to Trails.
 From Left Front: Karen Sullivan, BLT Rails to Trails Assoc., Mike Lancaster, Bluff Trail Stewardship Program and WREOW, Katherine Klefenz, BLT Rails to Trails, Alana Ziegler, GPI Atlantic Youth, Gwen Colman, GPI Atlantic Youth.
"These projects perfectly align with the goals of the Trust, so we are happy to pay the bills for these community groups to proceed with the important work of enhancing our natural spaces and teaching more people about how to maintain them." says Harry Ward, Trust Board Chair.
The Trust extends congratulations and best wishes to each of the grant recipients for their valuable contributions to environmental stewardship.
If you would like to support the Trust in its' work preserving and protecting the wilderness areas of the Chebucto Peninsula, donations may be processed through the website.