Finding Your Way in the Wilderness Area
The Five Bridge Lakes Wilderness Area (FBLWA) is a vast natural expanse of 8,600 hectares with historic trails, canoe routes and an estimated 200-year old settler route, the Old St. Margaret's Bay Road.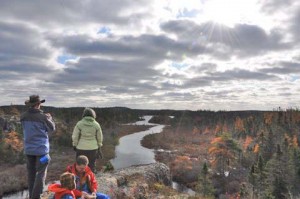 Visitors should treat the area with respect and also all the creatures who reside there.
Always remember to keep safety in mind and leave no trace. Cell service is spotty to non-existent in some areas.
Other Map Resources:
Five Bridge Lakes Wilderness Area (Map from N.S. Environment)
Natural Resources – Mineral Resources Land Use
– follow links to file 11D/12 – these are self extracting zip files containing a large, PDF format map.
N.S. Significant Species and Habitat Database
(Web Mapping Service)
– follow link at the bottom of the page to view online maps.