Book Launch Celebrations Planned
Publicity Update:  Listen to Wayne Rogers on CBC Radio's Information Morning on Thursday, June 1 at 6:45 a.m. to hear an interview about the new edition. 90.5 FM in Halifax.
Chronicle Herald article published Monday, May 29.
——-
A fabulous second edition of the popular book A Walking Guide to the Old St. Margaret's Bay Road is ready for sharing and the Trust is celebrating!
Just in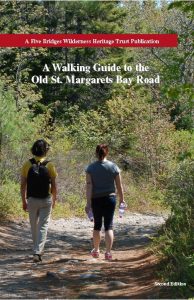 time for summer hikes and outdoor fun, this full-colour 40+ page guide offers detailed descriptions, updated colour maps and coordinates to points-of-interest across this once main route of the Chebucto Peninsula.
Author Wayne Rogers will attend the book launches to sign copies. Numerous Trust members, volunteers and supporters helped tirelessly to update the content of this edition and ensure its accuracy. Many of them will also be available to talk about the new edition.
This publication has been made possible through the generous contributions of Bay Treasure Chest, Halifax Regional Municipality Grants Program, St. Margaret's Bay Region Tourism Development Association, Sage Fund, HRM Councillor Reg Rankin and an anonymous donor, and many Trust members and supporters who provided new content.
Book Launch Details: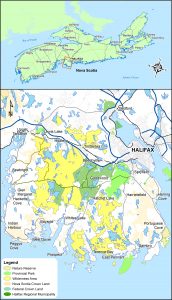 Everyone is welcome.
Thursday, June 1    7:00 – 8:30 p.m.        
Prospect Community Centre, Conf. Room
2141 Prospect Rd, Hatchet Lake, NS
Monday, June 5    1:30 – 4:30 p.m.
Keshen Goodman Library
330 Lacewood Dr, Halifax, NS
Tuesday, June 6      6:30 – 8:30 p.m.
Tantallon Library, Community Room
3646 Hammonds Plains Rd, Upper Tantallon, NS
Following the book launch celebration events, the Trust will be distributing free copies of the Walking Guide broadly to libraries, schools, sister organization members and community groups to encourage use of the trails and wilderness areas.