Friends, Please note the date has changed to Tuesday, 4 Aug 2015
Barb Allen has sent us the attached flyer about an upcoming information session on Tuesday, 4 Aug 2015 organized by Iain Rankin ,MLA for Timberlea-Prospect.
This meeting will provide us with the much appreciated opportunity to speak with representatives from both DNR and NSE about the many activities happening  on public lands in our area.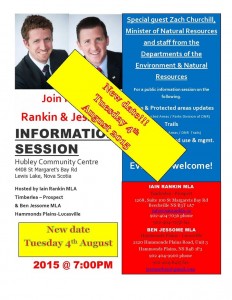 Message from Iain Rankin:
Please plan to attend an information session on Monday 13th July starting at 7pm at the Hubley Community Centre focused on public lands on the Chebucto Penisula. The session will be hosted by myself and Ben Jessome MLA Hammonds Plains-Lucasville with special guest Zach Churchill, Minister of Natural Resources.
Topics to include:
Parks / protected areas update (NSE Protected Areas / Parks Division of DNR)
Trails (NSE Protected Areas / DNR trails)
Forestry/Crown land use & mgmt. (DNR staff)
If you have an interest in the following:
Blue Mountain-Birch Cove Lakes Wilderness Area
Blind Bay Provincial Park
West Dover Provincial Park at Peggys Cove
Five Bridge Lakes Wilderness Area
Long Lake Provincial Park
Terence Bay Wilderness Area
plan to attend and find out more.
Hope to see you on the 13th!