Four community organizations are expanding their programs and trail access and improvement projects are underway thanks to money received from the Trust's Environmental Stewardship Grants Program.  In total, $40,000 was recently awarded for projects to be completed in 2018.
These projects have local impacts to the community in the St. Margaret's Bay area and all closely align with the Trust's mandate of protecting, preserving and educating about the public lands and natural spaces of the Chebucto Peninsula.
"This is the second year of the grants program," explains Harry Ward, Trust Board Chair,  "and we are so pleased to support these community groups as they tackle trail and environmental improvements and education that will benefit this area for years to come.  We wish them all the best of luck with their projects."
One of the new projects receiving funding is already underway at the end of Joshua Slocum Ave. in Lewis Lake, N.S.  It is a key access point for the public to enter the Five Bridge Lakes Wilderness Area.  The project is creating a new designated parking lot area and trail improvements to the Lewis Lake Fire Road Trail.  This trail links to the colonial Old St. Margaret's Bay Road that traverses 23 km from Goodwood to Glen Margaret through natural wilderness areas.
The Trust acquired the $40,000 funding as a partner of the Bay Treasure Chest.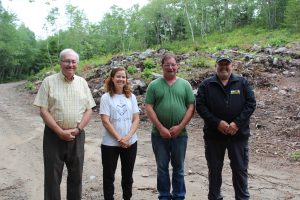 2018 Grant Recipients and Project Details:
Safety-Minded ATV Association:
$7,000             Trail development and improvements within the wilderness area from Nine Mile River to Goodwood.
$7,000             Upgrades and repairs along 3.2 KM linking the rail bed in Tantallon to the new parking lot area at the trail entrance of the Lewis Lake Fire Road.
$7,000             Improve public access to the wilderness area with the creation of a new one-acre parking lot at the end of Joshua Slocum Ave. in Lewis Lake.
Nova Scotia Salmon Association:
$7,000             To support the expansion of the Fish Friends Program, which provides salmon eggs and classroom fish tanks so children can learn about their maturation, in more St. Margaret's Bay Schools.
Bluff Trail Stewardship Training Program:
$10,000           To support the training of new trail stewards learning about the protection of the ecosystem in the popular Bluff Trail Wilderness Area.
Roots and Boots Forest School:
$2,000             To support the increased staffing needs of providing a forest school camp experience to special needs children.