The Trust has commissioned talented local film maker Kent Martin to create several films about the wilderness area.  We are pleased to share this latest one, which focuses on the natural flora and fauna of the area over a four-season period.
Reminder that any publication, reproduction or use of these films without the specific written permission of FBWHT is strictly prohibited. Contact the Trust at fbwhtb@gmail.com to obtain information about using the films and obtaining a license.
Flowers of the Forest   – 16 minutes  HD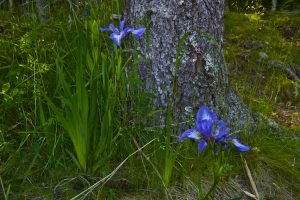 What do you see when you walk in the woods? If you are like me you walk by a lot. Perhaps you need to get down on your knees or belly and take a closer look. You might be amazed at what you see. This is a short film photographed through four seasons of the plants and flowers of the forests, lakes, bogs and rocky outcropping of the habitats of the Five Bridge Lakes Wilderness Area in Nova Scotia. Many of these plants can be found throughout the territory of Mi'kma'ki  – the Maritimes.  Most were used as medicines by the Mi'kmaq – a knowledge that was passed on to the settlers from Europe.