Volunteers Preserving the Bluff Trail
With a $10,000 Environmental Stewardship Grant awarded this year by the Trust, the St. Margaret's Bay Stewardship Association is able to continue running its monthly Bluff Trail Stewardship Program, which teaches volunteers key aspects of protecting the popular Bluff Trail Wilderness Area.  This vast area has 30 km of trail networks and natural wilderness environment that is increasingly exposed, by its popularity, to negative human impacts.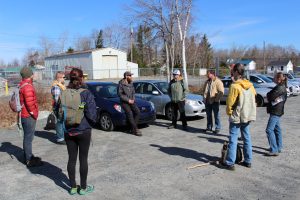 Volunteer training sessions are held monthly on weekend mornings.  Volunteers meet at the parking lot area off St. Margaret's Bay Road in Timberlea for a round up conversation with Bluff Trail training coordinator Mike Lancaster, before they head out on the trails for a six-hour hike day; full of rest stops, and conversation about the natural area and how to preserve it from human impacts.
Mike also teaches volunteers about the goals of the Bluff Trail Stewardship Program which are to decrease the impact of human harms on the trail; improve Leave-No-Trace practices among trail users; enhance sustainability of the Bluff Trail; and ensure best possible stewardship practices in this part of the Five Bridge Lakes Wilderness Area.
Volunteers are always welcome to join future training sessions.  It's a wonderful way to meet new like-minded people, maybe learn something new and help your wilderness area.
Training Dates for 2018 —
Saturday, May 26th

Saturday, June 23rd
Sunday, July 29th
Sunday, Aug. 12th
Sunday, Sept. 16th
Saturday, Oct. 20th
Sunday, Nov. 4th
Sunday, Dec. 9th
For more information,  contact info@wrweo.ca or call 902-876-7377.